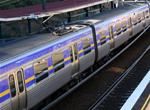 Green Travel Program provides methodology and practice to successfully involve everyone in a green initiative in a workplace. This highly successful programs brings staff together through a simple Recognition and Rewards system. Through this, it enables the staff to appreciate the valuable contribution that they make and encourages them to do more, they way they can.
Green Travel - Starting a Green Initiative Successfully
Envision Green Travel Program was first developed in 2003 at the initiative of City of Darebin Victoria, Australia. The program was devised for encouraging employees adopting 'green modes' of travel i.e. walking, cycling, using public transport or car sharing. To do so, it used Recognition and Reward as tool. The program effectively brought together Council Employees under the green banner there were many rewards e.g. lesser need for car parking or chaos around council office during rush hours but most important, a change in employees behaviour as more understanding and productive.
Reward yourself - Green Travel for Workplaces
Current Green Travel program takes a step further by providing green house saving statistics to employees and employers both. This visible representation provides a clear tangible appreciation of the valuable contribution that employees make, individually and collectively. Tangible result is key to effectiveness of Green Travel Program. For Program Managers, Green Travel Program offers easy to use utilities, Comprehensive Reports that assist them in deploying the program effectively and submit reports to management and other environment bodies. The data can be used for Carbon Neutral or Carbon Trading estimates.

Effective Program for everyone
The Envision Green Travel is a fully customisable program for workplaces e.g. Government Offices, City Councils, businesses, Corporate Departments, Shopping Centres, Universities, Hospitals, NGOs and almost any organisation. When you wish to effectively implement a Green Initiative, this is the program for you. The program comes integrated with Rideshare or Carpooling program. It is a web based program that can be deployed on workplace Intranet or Internet or hosted by us. The program can be effectively deployed in communities as well.
Green Travel Program Benefits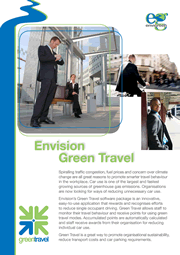 The Green Travel Program benefits are manifold that makes it a darling of environment promoters:
Simple and Effective tool to encourage people join the Green Initiative. Easy to implement for Program Managers and being Web Based, easy to deploy & manage for IT Managers.

Recognition and Rewards based practice, that slowly creates a behavioural change, with a pace participants can afford. This sustainable change is a life long change.

Immediate benefits are reduction in Car Use, more use of Public Transport, lesser need for Carparking and lesser car related incidents, lesser traffic on road. For employees this means lesser cost of travel and time saving.

More benefits are employees or community come through a sense of achievement. This instills a feeling of being able to do something, constructively and realistically. It changes perception of an individual into a confident and positive person. This brings a general cheerfulness, bonhomie and a sense of belonging. This is often reflected in better productivity & employee retention and lesser resource in workplaces.

An effective to gauge how well the Management's vision is imbibed by the workforce or community responding to leadership. Green Travel can foretell well in advance malaise in corporate direction.
Envision Green Travel Program Description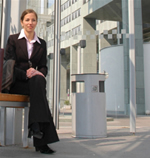 Envision Green Travel is a web-based system that is installed either on the workplace Intranet or Internet. The program can be hosted by Envigreen to make it more cost effective and fixed cost operation for a Workplace or Community.
To participate, employees / associates register into it with a password of their choice. After successful registration, participants enter their mode of travel from home to workplace and vice versa.
The program awards participants get a point for using a Green Mode of travel i.e. walking, cycling, public transport or carpooling. The participants are expected to achieve a 20% use of green travel in a year. When they achieve this distinction they become eligible for a Reward. The Workplace or Community provide the reward.
While the Reward is achievement of a goal, participants can see a daily progress on their homepage that shows the Greenhouse Gas Emissions and Fuel that they save, with each green travel that they undertake. They also get to see the organisational contribution as a whole. Akin to Black Balloons campaign, this provides participants a positive feedback and enables them do more and as we say - become by it'.
The program Managers have access to utilities that enables them manage and administer the program, run reports and 'recognising & rewarding' eligible participants.
Rideshare or Carpooling as part of Green Travel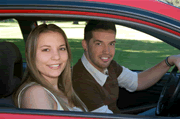 Rideshare or Carpooling is integrated within Envision Green Travel Program.
Rideshare assists workplace provide Carpooling facility along with Green Travel. To make use of Rideshare facility, the participants click for the same and enter other details needed for Rideshare. After registering for Ride Share, participants can find carpooling matches to or from work. To know more about To know more about Carpooling, please click here>>
In addition, through TravelSmart Victoria, we offer TravelSmart Carpooling which is an excellent and pro-active program to establish carpools in a work place.
To know more, simply email - steve@envigreen.com.au or call (03) 9802 5516 from within Australia or +61 3 9802 5516. Our Time Zone is AUSTRALIA EASTERN STANDARD TIME that is - GMT / UMT 11.00 Hrs. During Non Work Hours, you can leave a voice message or send email.