Encarp Software make workplaces greener by structuring
parking and thereby reducing redundant, Encarp eases parking for drivers and makes it more efficient by reducing 'time to park' and efficiently using parking bays.
Encarp eases car parking Manager's stress by streamlining the operations, allocating car parking to employees, contractors, Senior Management, visitors and others. For Finance and Accounts, it provides them with utilisation reports to eases appropriation of costs.
Greener Car Parking
Drivers in larger workplaces spend, on average 30 Seconds to park their car in a 100 bays Car park. It is spend either in finding an empty bay or a suitable bay. This means about 100 hours of useless driving in a year that comes at an astounding cost fuel, greenhouse emissions, Carparking incidents and many other issues. By reducing 'time to park', Encarp reduces greenhouse gas emissions in workplace Carparks and makes them greener. The program can be integrated with our Green Travel programs to reserve Carparking Spots for Carpoolers.
Efficient Carparking
Encarp makes the Carparking efficient by effective use of available Carparking bays. This enables allocation of Carparking bays to others when the original holders are out of town, even for a day and some some cases, few hours. This can structure Carparking where the employees are required to rotate the cars around. The Carparking system provides a day-wise snapshot of Carparking availability that enables the Carparking administrator re-allocate the Carparking. With Encarp , enterprises can make Car parking all over Australia or world, to their their staff and they can select it before they move off to new locations. They can also book visitor or other reserved parking as well.
Making Carparking Easier
Encarp makes Carparking easier for both Employees and visitors who know exactly where to park and saves them time. Further, to first time visitor, the software provides ample directions to enable them reach their reserved bay without looking around much. This also enable people being able to lodge in their requests for Waiting List and raising issues. Encarp provides a structured approach to managing Carparking Offenders that enables easy administration of Carparking Offenders and reduction in Workplace Carparking offences.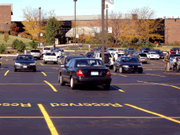 Better management of Carparking: Encarp enables better management of Carparking by streamlining operations. IT maps out the organisation that may involve hundreds of buildings, leased, owned or shared Carparks or Carparking Bays in commercial Car parking. The program gathers them all together enabling their management on a single portal. The bookings can be done by authorised officials or or employees, for themselves, visitors and others e.g. employees yet to join.
Encarp Benefits
Encarp provides a structured approach to Carparking by streamlining operations while easing Carparking for users. The obvious program benefits are:
Easy & Efficient Parking : Encarp makes Carparking easy for users and efficient for facility & Carparking Managers. The program will save about 100 Hours of productive time, at least for a 100 Employee Carpark, whether fully occupied or not. Further, it will reduce Carparking costs when Carparking is less than the requirements while maintaining same level of comfort.

Reduce Greenhouse Gas Emissions: The structured approach reduces 'time to park' thereby reducing un-necessary driving in the Carpark and hence reduce greenhouse gas emissions and pollution the Carpark.

Enterprise-wide implementation: The program can host multiple Carparks, in multiple locations and provides all facilities related to Carparking. It maps organisation chart that assists in appropriating costs, view use statistics to make enterprise use more cost effective. In some cases, users can opt for FBT calculations as well.

Reporting- Reporting is major issue with Carparking Managers it the program provides many standard Reports with ability to easily customise more, specific to enterprises. The reports enable efficient management while reducing stressing issues such as Carparking Offences.
Encarp - Description
Encarp operates on the unique concept of allocating Carparking bays. The program allocates Carparking bays to users for their desired period of time.
User Side
From User Side, the users need to register for the program. Based on their privileges, the users can either find or book Carparking bays for themselves or visitors or others. Otherwise, they can send request to Carparking Administrator to book a Carparking spot for them or others.
While on their home page and when allowed, users can view the Carparking Status overall and their own. They can also glance through messages from the Carparking Administrator or Management. When booked in 'in-tandem' Carparking, they can view details of their next bay neighbours as well.
The Users use their home page top raise parking requests or raise issues, see status, look for directions and know whom to contact, when needing parking outside their usual place of work.
Admin Side
Admin Side offers a plethora of tools and utilities to manage Carpark e.g.
Host, New, update or edit New Carparks or Carparking Bays. Provide directions and how they should be displayed

Create Organisational chart and groups for easier management

Assign privileges to users and group Managers

Allocate Carparking to Users or Groups

Manage Issues and offenders

Generate Reports for User Departments and Finance & Accounts

View snap shops and deploy exigent measures
Others
The program has ability to integrate Boom Gate operations or existing Security tags to allow smoother access to Carpark and display status. The program can send SMS in case the bays is not vacated by previous owner and allocate hot spot, with directions. The program can pick up information from or dump information to enterprise system, thereby eliminating the need for expensive integration.
The programs fits in well with our Green Travel Programs by allocating reserved bays for Carpoolers and implementing systems such as token issue.
Encarp is highly customisable and provided as a service.
Encarp Easy & Efficient Parking- The program is offered as a services with a very low upfront and ongoing service fee.

Hosting Charges- The charges include hosting Support, Bug Fixing and FREE UPGRADE to new version.

Ongoing Costs - These are same as decided during sign up and valid for 5 years.

Consulting- Make use of our consulting services to implement the program in time bound manner with visible results and save valuable time of your staff. The consulting services are priced @$120 EX GST per hour in Australia and provides you program progress and management reporting.
To buy, simply email - steve@envigreen.com.au or call (03) 9802 5516 from within Australia or +61 3 9802 5516. Our Time Zone is AUSTRALIA EASTERN STANDARD TIME that is - GMT / UMT 11.00 Hrs. During Non Work Hours, you can leave a voice message or send email.